Call for application for 2-year research capacity building program
Submitted by d.omido on Wed, 2015-10-14 11:39
Location / Venue:
College of Health Sciences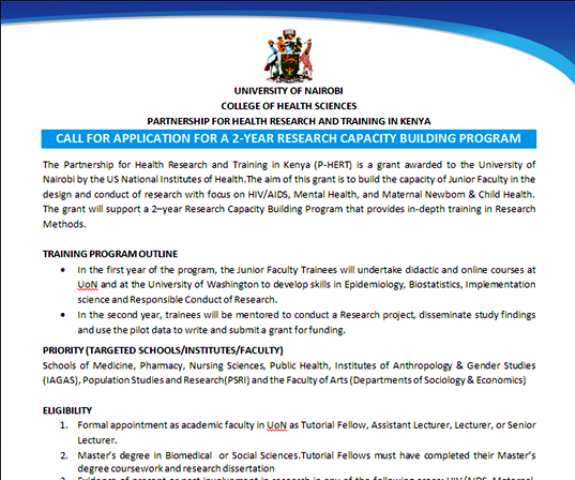 The Partnership for Health Research and Training in Kenya (P-HERT) is pleased to announce applications for a 2-year Research Capacity Building program.
P-HERT is a grant awarded to the University of Nairobi by the US National Institutes of Health.
The aim of this grant is to build the capacity of Junior Faculty in the design and conduct of research with focus on HIV/AIDS, Mental Health, and Maternal Newborn & Child Health.
The grant will support a 2–year Research Capacity Building program that provides in-depth training in Research Methods.
Successful applicants will undertake didactic and online courses at UoN and at the University of Washington to develop skills in Epidemiology, Biostatistics, Implementation science and Responsible conduct of research in the first year of the program.
In the second year, the trainees will be mentored to conduct a research project, disseminate study findings and use the pilot data to write and submit a grant for funding.
Get more details and application procedure on the attached documents.