Dr. Laving visits India for a conference
Submitted by d.omido on Tue, 2016-03-15 14:56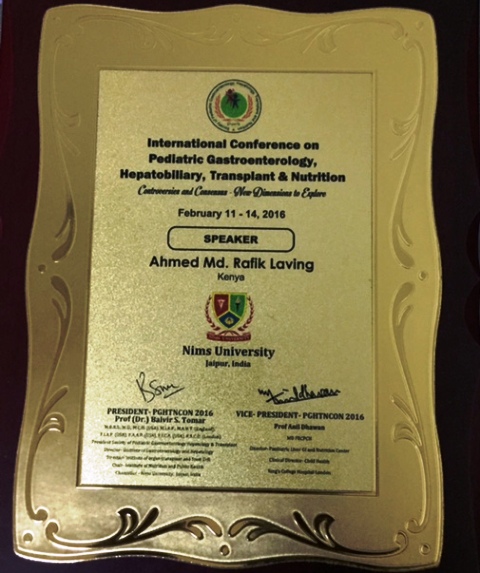 Dr. Ahmed Laving, a lecturer at the Department of Paediatrics and Child Health attended the the first Pediatric Gastroenterology Hepatobiliary & Transplant Conference held at NIMS University in Jaipur, India in February 2016.
He attended the conference following an invitation to give a talk on "use of anti-emetics in acute gastroenteritis in children".
Dr. Laving was the only Kenyan speaker at the meeting with international delegates from over 100 countries.
The theme of the conference was 'Controversies & Consensus' and he talked about evidence on effectiveness of anti-emetics in acute diarrheal disease.
Although the current guidelines advice against use of these medicines, new evidence suggests that single dose oral ondansetron is useful in reducing vomiting, improved ORS uptake with subsequent reduced IV fluid requirement and hospital admissions.