2nd application for a 2-year Research Capacity Building Program
Submitted by d.omido on Wed, 2016-09-28 09:33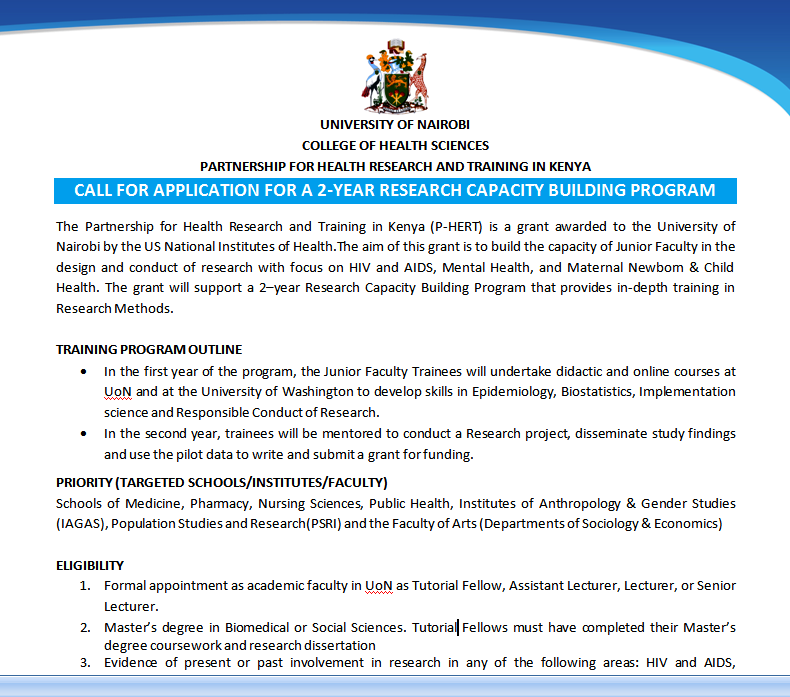 The Partnership for Health Research Training in Kenya (P-HERT) is a grant awarded to the University of Nairobi to develop and implement a two-year Research Capacity Building Program targeting Junior Faculty at the University of Nairobi, Kenyatta and Maseno Universities. The aim of this training is to foster the next generation of research scientists by developing their in-depth research skills and expertise in the fields of HIV/AIDS, Mental Health and Maternal Newborn & Child Health.
The program plans to initiate a competitive recruitment of the second group of candidates to undertake the two-year training program. The training is open to academic staff from the level of tutorial fellows to senior lecturers in the biomedical or social sciences fields in the three Universities.
Get more details and application procedure on the attached documents.